Newspaper Valentine, &copy 2006 by Suzann Thompson. I recycled four different sweaters into this 24 x 24" quilt. I crocheted the red trim, and sewed, oh, around 250 buttons onto it. Now, why is this wall hanging called Newspaper Valentine?

How can anyone resist all the gorgeous yarn, fabric, buttons, and beads in this world? I can't. I love to knit, crochet, sew, and I feel compelled to sew buttons on almost everything! TextileFusion was born because I couldn't choose just one craft and leave the others behind. At first TextileFusion described only my wall hangings, which incorporate knitting, crochet, quilting, and embellishment. Since writing and teaching about textile crafts and art are a big part of what I do, TextileFusion grew to include them as well. Thanks for visiting! After you have a look around, please go to my blog, where you can read about my current projects and more.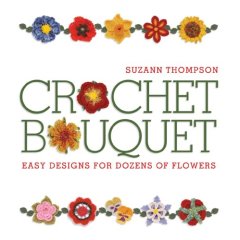 Writing


My book, Crochet Bouquet (Lark Books) is available in fabulous bookstores as well as online. You'll find instructions for dozens of good-looking flowers and leaves. Several projects give you ideas for using crocheted flowers on clothing, accessories, cards, and gifts. I give you tips for choosing yarn and techniques for improving your finished flowers. Order from amazon.com or Barnes and Noble now! Since the early 1990s, I have written over 200 magazine articles about knitting, crochet, and crafts. I am available to design projects and write articles to promote yarns and other craft products. Please email me to discuss possibilities and fees.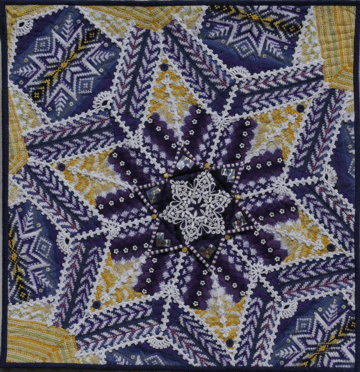 Wall Hangings


I make two or three knitted, embellished quilts each year. This one is called Snowflake Dreams of Spring. Read about Snowflake and see more wall hangings here. Most of my artwork is for sale. The price includes a list of publications and exhibitions in which the piece has appeared, and delivery by registered mail.

Go to Gallery Links to see photos from some of my other projects, like the Pillar Project with Ian Boyle, and altered and handmade books for knitters with Jane Hurwitz.
Workshops
I enjoy teaching for guilds and groups, as well as at conferences. My workshops include Follow the links for workshop descriptions and for teaching fees and terms. Please email me for more information. My teaching schedule, is on the sidebar of my blog.
Read about Suzann's new book, Crochet Bouquet, including new projects for crocheted flowers,
at her new blog, Curious and Crafty Readers.
Read about Suzann's Italian mosaic adventure at her blog, February 19 through March 8, 2006.